Richard Branson found his Roots- Indian Descent
Finding my roots
Information contained on this page is provided by an independent third-party content provider. WorldNow pressreleases@worldnow.com.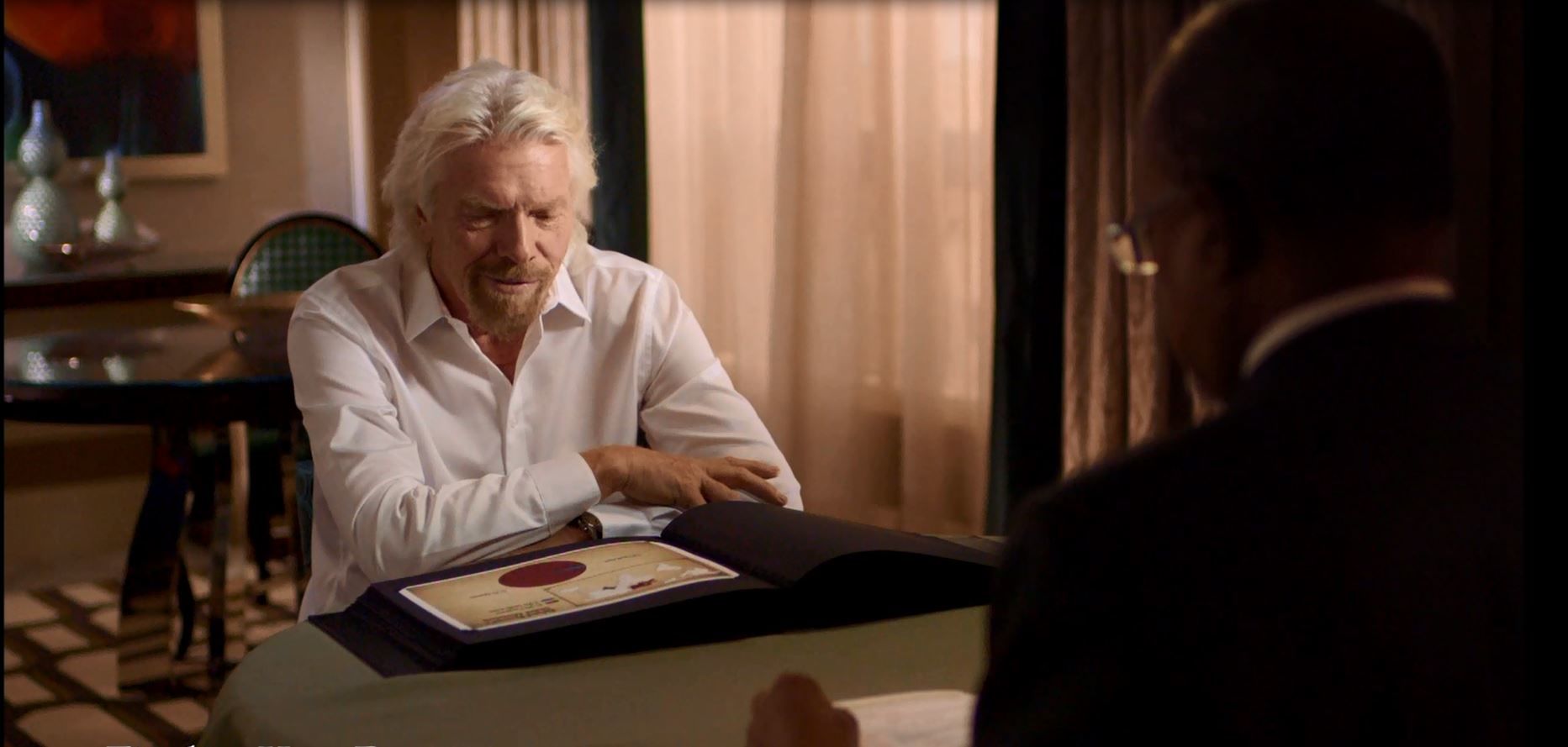 SOURCE Virgin Management
LONDON, February 3, 2016 /PRNewswire/ —
~Virgin Group Founder reveals pride in unearthing family history~
Writing in his blog today, Richard Branson traces his family history and reveals his pride in discovering he is of Indian descent:
"I know just about everything there is to know about my living relatives – we're a tightknit bunch, who loves to share and celebrate our achievements together. Up until recently, however, I couldn't say the same about those who came before my great-grandparents.
That was until I sat down with historian and journalist, Henry Louis Gates Jr to trace my roots. Let me tell you, it was a journey of wonderful discovery, in which I found out that I inherited several of my most defining character traits – namely my love of adventure, discovery and entrepreneurship – from my ancestors.
My father's family left a paper trail that traced back to Madras, India in the 1700s. In 1793, my third great-grandfather, John Edward Branson set sail from Britain to India. After a gruelling six-month journey, in which his boat circled the Cape of Good Hope and crossed the Indian Ocean, he reached South East India – a trading hub of the fast-growing British Empire. He was eventually joined by his father, my fourth great-grandfather, Harry Wilkins Branson; and by 1808 three generations of my ancestors were living in Madras (or Chennai, as the city is known today).
When I heard this, I hoped that they had made the move for the love of adventure and in the spirit of entrepreneurship; and it turns out I was right. The paper trail showed that they moved in search of fortune, and within 10 years became successful businessmen – my great-great-great-grandfather, John, a shopkeeper and my great-great-great-great-grandfather, Harry, an auctioneer. I was terribly excited to discover that the entrepreneur gene runs deep in the Branson blood line.

What's more exciting is that the Madras archives combined with analysis of my DNA uncovered a very surprising family secret. The baptismal record of my second great-grandmother Eliza Reddy strangely didn't list her mother. Analysis of my DNA revealed that the reason for this was because my third great-grandmother was Indian. Yes, it turns out I'm part Indian. I couldn't wipe the smile off my face when I found this out. I'm honoured. I wish that my father had got to see these records; he would have been fascinated too.
Like my paternal ancestors, it appears that my maternal side also embraced the spirit of adventure. While probing into my mother's family lineage something odd happened: my mother's great-grandparents, Henry and Fanny Flindt, disappeared from English census records. They appeared to completely vanish after 1861, but luckily showed up in Australia!
Baptismal records from Prahran, Melbourne show that some time after 1861, Henry and Fanny moved their entire family to Australia. Again, I had no idea about this part of my family's history. No wonder I have always loved Australia – it's in the blood!
However, while the Australian economy was booming, my family was anything but prosperous. Soon after arriving they were forced to file for bankruptcy. And in 1867 both Henry and Fanny died from dysentery, leaving their four children – including my great grandfather, Sydney Flindt – orphaned.  Fortunately, my third great-grandfather, Julius Emanuel Flindt brought the children back to England, and made them his heirs.
The story of my great-great-great grandfather's altruism has affected me deeply. Thanks to the generosity and kindness of one man, my ancestors managed to get back on their feet, and find success and happiness. I hope that when my family look at our family tree, they look at my name and think: great-grandfather Richard Branson really made a difference. I hope that they will be proud of me.
Perhaps the most surprising piece of information discovered on my mother's side was the fact that I'm related to Charlemagne, King of the Franks. It turns out that he is my fortieth great-grandfather! But that's a story for another time.
Richard revealed his family history as part of Finding Your Roots which is broadcast on PBS. Find out more by visiting virgin.com/richardbranson.