Dr.Manmohan Singh, Prime Miniser of India, in an Affidavit filed to The Returning Officer for Rajya Sabha Elections , attested/accepted by a Commisioner of Oaths, Delhi, has declared  in the column marked 'Names of Dependents', as
N/A  ( Not applicable)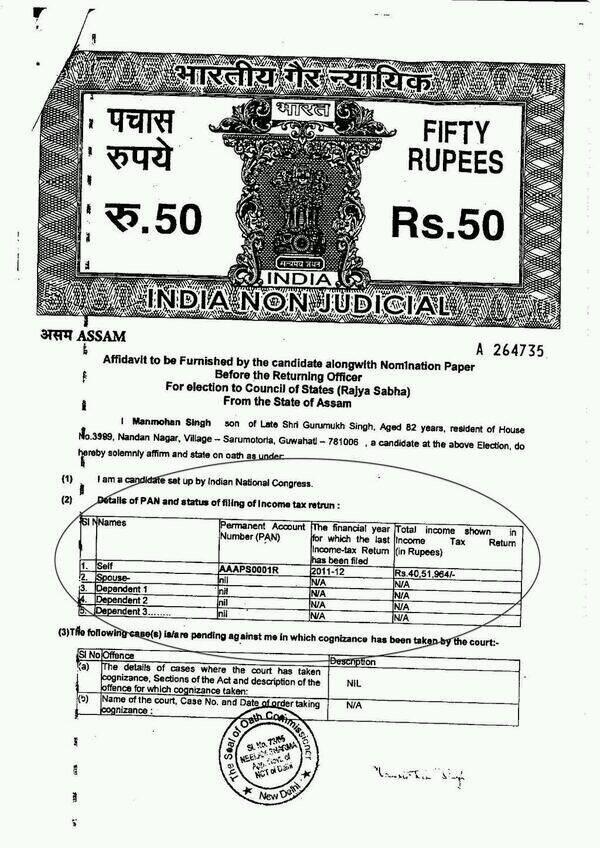 Mnmohan Singh Rajya Sabha Affidavit.image credit. http://pbs.twimg.com/media/BlAfOuSCYAEqY3l.jpg:medium
Hope it does not mean Not Available!
This means that,
1.The Commissioner of Oaths had signed this with out Manmohan Singh being present, which is a violation, or
2.Manmohan Singh really means NA or Not Available
3.He  does not have The permission to Declare or
4.He had it filled up by some one,which is more likely, signed blindly
or a combination of all these.
Narendra  Modi married?
"
BJP on  Saturday claimed Prime Minister Manmohan Singh had not mentioned his wife's name in the affidavit submitted along with nomination he filed as a Rajya Sabha candidate, as the party sought…